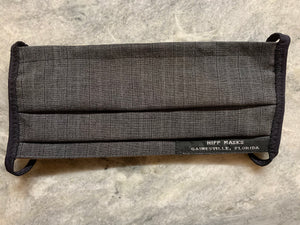 Hipp Masks
Virgil Hawkins - Grey Blend Suit Material with Black Foldover Elastic for Ears
Regular price
$16.00
$0.00
Unit price
per
This business-professional mask holds a removable filter of Halyard H600 sterile wrap. The exterior is a washable synthetic blend, the interior is 100% cotton.  Handmade by Hippodrome Theatre costume designers in Gainesville, Florida. Machine washable, we recommend you hang or lay flat to dry. The liner should be removed for washing and left in the hot sun to decontaminate after 24 hours of use. All of our handmade Hipp Masks come with one filter and a small grey mesh bag for washing. Additional filters, mesh bags, voile storage bags and other accessories are available on our website.



Virgil Hawkins fought for admission to the University of Florida's Law School, first applying in 1949.   He won a case before the U.S. Supreme Court in 1956, Florida ex Rel. Hawkins v. Board of Control, which stated that Hawkins was "entitled to prompt admission [to the University of Florida Law School] under the rules and regulations applicable to other qualified candidates." (See Wikipedia).    He agreed to withdraw his application in 1958 in exchange for a Florida Supreme Court order desegregating the University of Florida's graduate and professional schools, opening opportunity for generations to come.   Despite having graduated from law school in Boston, he was denied admission to the Florida Bar until 1976.   A true pioneer, a graduate of Bethune Cookman College in Daytona Beach, and a tireless advocate, this mask is polished and professional, just like its namesake.  
Photo and information from the UF Law School Site and Wikipedia. 
https://www.law.ufl.edu/areas-of-study/experiential-learning/clinics/virgil-d-hawkins-story

---