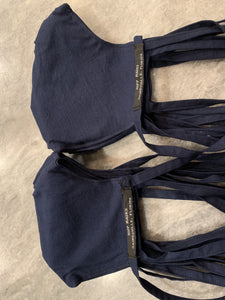 Hipp Masks
Lake Santa Fe: Navy All Cotton Mask with Cotton Ties
Regular price
$16.00
$0.00
Unit price
per
All cotton, perfect for work or errands!   This beautiful mask will remind you of the cool, deep, beautiful lake East of Gainesville in the lovely town of Melrose.  Sweet, sweet Melrose and its lovely lake are located in four different counties, bless their hearts.    For more information about this jewel of a lake, visit here:

https://www.visitgainesville.com/explore/attraction/santa-fe-lake-park/
https://en.wikipedia.org/wiki/Lake_Santa_Fe

The dark navy cotton holds a removable filter of Halyard H600 sterile wrap, and has white cotton ties.  Handmade by Hippodrome Theatre Costume Sewists in Gainesville, Florida.

Machine washable, we recommend you lay flat or hang to dry.   The liner should be removed for washing and left in the hot sun to decontaminate after 24 hours of use.  

All of our handmade Hipp Masks come with one filter and a small grey mesh bag for washing.  Additional filters, mesh bags, voile storage bags and other accessories are available.

Our masks are not recommended for medical use, do not be overconfident and use social distancing.


---