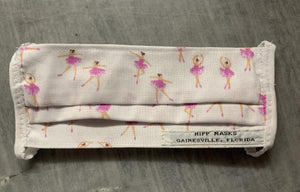 Hipp Masks
Pofahl's and Joni Messler's Dance Studios: Child Sized White with Pink Ballerinas with White Foldover Elastic for Ears
Regular price
$13.00
$0.00
Unit price
per
If you're a dancer in Gainesville, you either trained at Ms. Joni's or at Pofahl's... both run by lovely ladies!    Times change, but these studios trained many decades of beautiful artists.

This child-sized mask holds a removable filter of Halyard H600 sterile wrap. Handmade by Hippodrome Theatre costume designers in Gainesville, Florida. Machine washable, we recommend you lay flat to dry. The liner should be removed for washing and left in the hot sun to decontaminate after 24 hours of use. All of our handmade Hipp Masks come with one filter and a small grey mesh bag for washing. Additional filters, mesh bags, voile storage bags and other accessories are available on our website.

Please note this is for a small child, aged about 3-6. 

On March 17, 2021 SIX of these went to Illene's Gator Store in Thornebrooke Village.  Check them out there!  Thank you, Illene Silverman!  You're the best!

---