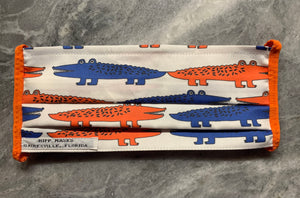 Hipp Masks
Those Cute as @#!!*! Gator Ones: Orange and Blue Gators on White Organic Sateen with Orange Foldover Loops for Ears
Regular price
$18.00
$0.00
Unit price
per
This beautiful 100% cotton organic sateen mask holds a removable filter of Halyard H600 sterile wrap. Handmade by Hippodrome Theatre costume designers in Gainesville, Florida. Machine washable, we recommend you lay flat to dry. The liner should be removed for washing and left in the hot sun to decontaminate after 24 hours of use. All of our handmade Hipp Masks come with one filter and a small grey mesh bag for washing. Additional filters, mesh bags, voile storage bags and other accessories are available on our website.

This mask was named by Keystone Heights' Former Mayor, Mary Lou Hildreth, when she said, "And I need one of those cute as @#!!** Gator ones, too!"   So there you have it.  We love her. 

On March 17 a supply of SIX of these went to Illene's Gator Store in Thornebrooke Village!  Get them while you can!
---