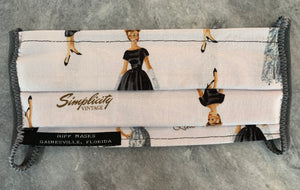 Hipp Masks
Westwood Home Economics Class: White with Simplicity Ladies Print with Grey Foldover Ties
Regular price
$12.00
$0.00
Unit price
per
IMPORTANT NOTE:  The remainder of these masks are discounted by $4 because they have minor flaws.   Sometimes a new stitcher is being trained, or there's a machine issue or something.  It's actually kind of appropriate for this particular mask... we are out of this fabric, can't find more.    This mask will still work fine, just have issues with stitching and such.   We have some PERFECT ones with black loops in stock, check back soon!

This beautiful mask holds a removable filter of Halyard H600 sterile wrap. Handmade by Hippodrome Theatre costume designers in Gainesville, Florida. Machine washable, we recommend you lay flat to dry. The liner should be removed for washing and left in the hot sun to decontaminate after 24 hours of use. All of our handmade Hipp Masks come with one filter and a small grey mesh bag for washing. Additional filters, mesh bags, voile storage bags and other accessories are available on our website.

Did you take Home Economics and use Simplicity patterns?  No, well, you missed out!  Westwood had the BEST Home Ec class.  Loved it.  See how it took?

---