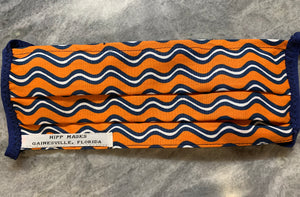 Hipp Masks
Who's in the President' Box? Fancy Wavy Orange and Blue Print with Blue Foldover Elastic for Ears
Regular price
$18.00
$0.00
Unit price
per
This beautiful mask holds a removable filter of Halyard H600 sterile wrap. Handmade by Hippodrome Theatre costume designers in Gainesville, Florida.   Because of the gold embellishment, it's probably a good idea to hand wash, and we recommend you lay flat to dry. The liner should be removed for washing and left in the hot sun to decontaminate after 24 hours of use. All of our handmade Hipp Masks come with one filter and a small grey mesh bag for washing. Additional filters, mesh bags, voile storage bags and other accessories are available on our website.


One size fits most.  Try an extender if you are concerned it may be too tight!

Back in the day, the Gainesville Sun used to always publish a list of the talking heads who had been invited to watch the Gators play from the President's Box at the Swamp.   They don't do that anymore because, well, journalism is in trouble, folks!   But anyway... people wear their fanciest orange and blue.  They specifically tell you no jeans or shorts.  Because, you know, it's a football game. 

---